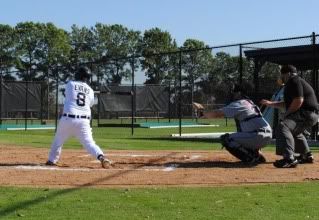 Something Ernie Banks never said
Wednesday morning came early in Lakeland after a late Tuesday night at the ballpark.
The Tiger trainers wanted to see Fred first thing on Wednesday, so we got to the clubhouse at 8 and Fred went for treatment on the pulled hammy.  They iced and rolled it and told him he could play but cautiously and encouraged a designated runner at all opportunities.  It's our fantasy so we can do that.~
At 9 a.m. we got our schedule for the day.  Ernie Banks, Mr. Chicago Cub and Hall of Famer, is best remembered for saying to anyone that would listen, "It's a beautiful day for a ballgame….let's play two!"
Clearly Mr. Banks has never been to Detroit Tiger Fantasy Camp. We got word this morning we would indeed play three games but in the interest of our continuing health, they would be shortened to five inning affairs.
Our curtain call today was games at 10 a.m., 2:30 p.m. and 6 p.m. under the lights at Henley Field.
Kangaroo Court of course starts the day and Judge Warden, flowing robe and all, immediately wanting to know where Fred was.  Sheepishly Fred waved his hand.
Judge says, "I understand you made no bones about how quick you were running the bases. You're first at bat, you take two steps out of the batters box and from that point on you need a walker to get around!"
Considering Fred is only 5'4," Judge says, "you have a 'little' hamstring, so I'll keep the fine 'small,' " and popped him for $2 and some ribbing to follow from the boys.
Somehow I also got fined today for "stretching on the Judges tree."  Had no idea what he was talking about. The fine is "BS" but I paid it and asked for a tax receipt.  Hey it goes to charity after all.~
Game 1 on the day followed and the hangover we had from the late game on Tuesday lingered.
We played a team coached by Jon Warden and Johnny Grubb and before we knew it trailed 6-0 going into the bottom of the fifth which was the last inning. The alarm went off and 20 minutes later we pushed across 7 runs for a very improbable 7-6 win.~
I didn't have a memorable game. Only two at-bats with a walk and struck out swinging.
Gimpy Fred fared much better with a single to center, a walk and a run scored.  Only in fantasy camp can you have a 414 home run hitter like Darryl Evans come up to Fred, give him a fist pump and say, "nice hit!"
A quick lunch hour and then we moved to the afternoon game against a team coached by Dave Bergman and Jack Billingham. They were coming off a win in the morning game as well.
Our late heroics in the early game continued as we posted 8 runs in the first three innings and won going away 8-1.
If nothing else transpires of note for me this week, this game is the one to remember.  Probably the best ball game I've played since say 1965.
My Hanukkah present paid dividends early.  Last year to Pirates camp I had to take my circa-1967 model first baseman's glove and every game or two a ball would go completely through the webbing, it was so darn old.  Fortunately the Pirate clubhouse guys had a needle and strong thread.~
Longtime business and personal colleague, Mike Hallman gave me a brand spanking new Rawlings first baseman's glove over the holidays, probably more out of pity than kindness, but I'll take it!
Never thought at 58 years old I would be excited by a new baseball glove.~  Hey, but at 58 it's a thrill to still get excited about almost anything.~
Nice to be able to catch a ball and hope it doesn't pop out the other side. The new mitt has been reliable.
First inning of today's second game and the first batter of the game hit a ground ball to our third baseman. An errant throw to first put me in a position of having to come off the base, pick the ball out of the dirt backhand and in one fell swoop tag the runner coming by me.  The timing had to be perfect and the glove did it's magic!
Former 145 major league game winner, Jack Billingham was coaching first and said, "Can you do that all the time?"  Shhhh.  Keep it our secret please.~
The the third batter of the inning hit a rope over my head that somehow I was able to leap (as high as I still can go) and snag.  Billingham shook his head as I marched off the field to high fives!
And then for good measure the first out of the second inning also forced me to pick one out the dirt.  Thank you Mr. Hallman for the very practical gift~.
Offensively, it was a good game as well, with a walk my first time up and then a very solid single to right center my second time at bat. Which forced me to run the bases, Southwest Airlines style of course, and perhaps the best part of the whole game was I scored a run on a sacrifice fly after eventually getting to third base.
Yep on a sacrifice fly.  Chugged all the way home from third.  Thought I would never get there.  Arrived gassed and safely.~~  Scoring on a sacrifice fly at 58 years old could be a lifetime highlight!
Fred didn't have a good game at the plate. 0-2 with a line out to center and down swinging on strikes but played a good defensive game at second base and helped us limp home for the win.~
After a short break the scene shifted again downtown to historic Henley Field, a cute little bandbox of a ballpark that opened in 1925 and seats 1000 people on metal bleachers.  It's claim to fame, other than its age, is Ty Cobb once played there.
Now it can footnote that both Ty Cobb and Roy Berger have played there.~
Night baseball is a treat but tonight just wasn't our night.  We again played the Bergman-Billingham team that we easily handled only a few hours earlier and we were just flat.
Partly because of the emotion involved in playing two games already. Then we got word that we have now lost three players to injury including one of our best hitters who is probably on the DL until next January.~
We went through the motions and got beat 9-3 leaving us with 2 wins in 3 games for the day and an overall record of 3 wins and a loss with two games remaining before the playoffs.
You know you're playing for better days when trailing 5-3 late you leave your pitcher in to be skewered.  A 5-3 deficit became 9-3 and I looked in the dugout at Frank Tanana and he shrugged his shoulders and said, "What do you want me to do?"  Changing pitchers would be a start but clearly Daiquiri wanted fresh arms for Thursday so we took our lumps and looked forward to a warm shower and bed.
I had a good game going 1 for 1 with a single to center, an RBI and a walk.  In fact I had my best at-bat of camp tonight and it came on the walk.
I was the third hitter in the first inning against the best pitcher we have seen so far, a 50 year old that threw 65-70 mph.  We have not seen that speed or control yet.  I fell behind a ball and two strikes and then drew an eight pitch walk just trying to foul off anything around the plate. One of those walks that really felt earned.~
Fred was 1 for 2 at the plate.  He got called out on what's becoming known as a "fantasy" strike in his first at bat and then his designated runner legged out an infield single his second time up.
And we both had pretty good nights in the field.
Curfew comes early after a long day.  Thursday is supposed to be a pretty day in the high 70′s and we play two at 10 am and 2 pm.
Ernie Banks would be proud.~~