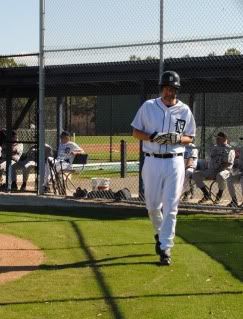 Are we here to play baseball or buy batteries?
The baseball playing week got off to a very inauspicious start.
Report time for Day 1 of the schedule was to be in the Tiger clubhouse by 9 a.m., make sure your uniform fits, and be ready for stretch and clinics by 9:30 a.m.
We decided we would head over early and left the posh Lakeland Inn and Conference Center at 8 am.  I remember how special the feeling was last year to walk into a major league clubhouse and see your uniform with your name and number hanging from your locker for the very first time.  Truly a little kid growing up an adoring baseball fan's dream!
Fred and I made our way to the clubhouse and found we are housed on the same row of lockers.  Fred's home white and gray away uniform neatly hanging from his perch with his chosen #8 and last name emblazoned on both sets of shirts.  My #56 was likewise hanging just down the row.
It hit me when I saw my uniform and locker that the excitement I had growing up a Pittsburgh Pirates fan and living the same experience a year ago, there was something missing this morning.  I guess never having a Detroit Tiger passion nor identity made the moment rather matter of fact.  Kind of been there, done that. I'm here to enjoy playing ball for a week and the uniform is just part of the tools.
We got dressed, made sure everything fit, got matching home and away hats and we went outside to throw.  I haven't thrown in about three weeks.  For Fred it's been about 25 years.
Played a nice few minutes of catch with about 30 other campers before the sky got ominous and then opened up with rain.  A downpour that continued for about six hours washed away opening day.
So the Monday afternoon games have now been moved to Thursday, which was originally left open as a rehabilitation afternoon.  Weather permitting we now have doubleheaders on Tuesday, Wednesday and Thursday with at least two and perhaps three games on playoff Friday. My legs are threatening to catch an early flight home.~
The Tigers did a nice job with the morning weather misery.  We had clubhouse clinics with the ex-major leaguers on pitching, infield and outfield basics.  Nice question and answer session that most of the Detroit campers truly enjoyed.
They arranged for all teams to be able to take turns in the indoor batting range.  When our team, lead by Darryl Evans and Frank Tanana, got into the cage I gotta tell you it was impressive to see.  We have one of the younger teams in camp, 15 on the team with one already on the disabled list.  I am probably the second or third oldest on the squad which bodes very well for us.~
We have some big boppers or so it looked from BP today.  As I told some of our guys you don't clinch a playoff spot in batting practice as evidenced last year in Pirates camp.
Before a game last January we watched the other team take batting practice with our jaws open in amazement.  One after another just blistering the ball.  There was no mercy.  Shook up just standing and watching them.
Then the game started.  Seven innings later we beat them 18-0.~
What you see isn't necessarily what you get. We'll have a much better indication on what kind of team we have tomorrow as we have games at 10 am and 2 pm.
It was nice to watch Fred get into the batting cage for the first time again in 25 years.  After he figured he wasn't swinging a nine-iron to 125 yards, he made solid contact with the ball and then became a big shot.
He wanted me to take him to Sports Authority to buy batting gloves.  He goes 25 years without batting gloves, hits two solid line drives and now he thinks he's A-Rod.~  So off to Sports Authority we went!
I will say this about the Detroit campers.  They are extremely hospitable and gracious to the first timers.
Last year in Pirate camp the group, 60% returnees, tended to be a bit cliquish and rookies hung with rookies until relationships progressed as teammates.  Just the opposite here. Very warm and welcoming despite the same high rate of returnees.
And the small world of course continues.  I've met two guys here from the same town I grew up in on Long Island and one of them presently lives less than a half mile from my youngest brother.  Why are they at Tiger Fantasy Camp?  One would guess for the same reason I am.~
Tonight was dinner and autograph night for the campers with their Tiger heroes on hand to sign all sorts of memorabilia.
We decided to pass and head out to dinner on our own.  Neither one of us have that Detroit background and passion.  I'm a Yankee fan and Fred is bi supporting both the Yankees and Mets.
So we decided to sign our autographs on credit card receipts for a nice dinner.~
One thing however became very apparent today.  Modern technology has no use for baseball history.
We set the GPS to get us to Tigertown which is located on Al Kaline Drive, named after the Tiger Hall of Famer and legend.
As we approached the complex the gal in the GPS voice told us to make a left on 'alkaline drive.'  I wasn't sure whether to turn or keep going and look for a six pack of Duracells!
Doubleheader on Tuesday.  Of course we need to start slow and then taper off.~