Posted on June 16, 2009
Filed Under Travel Warnings -- From www.travel.state.gov | Comments Off
The Department of State warns U.S. citizens that the potential for a terrorist attack or localized civil disturbance still exists in Uzbekistan. The Department of State continues to urge Americans in Uzbekistan to exercise caution when traveling in the region. This supersedes the Travel Warning dated July 3, 2008.
The U.S. Government continues to receive information that indicates terrorist groups may be planning attacks, possibly against U.S. interests, in Uzbekistan. Supporters of terrorist groups such as the Islamic Movement of Uzbekistan, Al-Qaida, the Islamic Jihad Union, and the Eastern Turkistan Islamic Movement are active in the region. Members of these groups have expressed anti-U.S. sentiments and have attacked U.S. Government interests in the past, including the U.S. Embassy in Tashkent, and may attempt to target U.S. Government or private American interests in Uzbekistan. In the past, these groups have conducted kidnappings, assassinations, and suicide bombings.
High security at official U.S. facilities may lead terrorists and their sympathizers to seek softer targets. These may include facilities where Americans and other foreigners congregate or visit, such as residential areas, clubs, restaurants, places of worship, schools, hotels, outdoor recreation events, and resorts. The U.S. Embassy in Tashkent continues to employ heightened security precautions. U.S. citizens should report any unusual activity to local authorities and then inform the Embassy.
Uzbekistan experienced a wave of terrorist violence in 2004 and a number of incidents have occurred since then. In July 2004, there were three suicide bombings in Tashkent, including one outside the U.S. Embassy. The Islamic Jihad Union (IJU) claimed responsibility for the attacks. The IJU also used suicide bombers in multiple attacks focused on police and Uzbek private and commercial facilities in Tashkent and Bukhara in late March and early April 2004. In May 2005, armed militants stormed a prison in Andijon, released its prisoners, and then took control of the regional administration and other government buildings in Andijon Province. Fighting broke out between government forces and the militants, and reports indicated that several hundred civilians died in the ensuing violence. In May 2009, there were attacks on a border post in Khonobod and a suicide bombing at a police station in the city of Andijon.
The Uzbek Government tightly controls all official border crossings. Travel within Uzbekistan by rail or land sometimes requires brief exit into neighboring countries. Travelers should have multiple-entry Uzbek visas and a proper visa for the neighboring country in order to avoid delays in travel. Furthermore, American citizens affiliated with nongovernmental organizations that have been closed in Uzbekistan may be denied entry, even with a valid visa.
Americans traveling to or remaining in Uzbekistan are strongly urged to register with the U.S. Embassy through the State Department's travel registration website, https://travelregistration.state.gov, and to obtain updated information on travel and security within Uzbekistan. Americans without Internet access may register directly with the U.S. Embassy in Tashkent. The U.S. Embassy in Uzbekistan is located at # 3, Moyqorghon Street, 5th Block, Yunusobod District, Tashkent-700093, Uzbekistan. The telephone number is 998-71-120-5450 and can be reached after hours as well in the event of an emergency. The Consular fax number is 998-71-120-5448. The website is http://uzbekistan.usembassy.gov.
As the Department continues to develop information on any potential security threats to U.S. citizens overseas, it shares credible threat information through its consular information documents, including the Country Specific Information for Uzbekistan and the Worldwide Caution, available on the Internet at http://travel.state.gov. In addition to information on the Internet, travelers may obtain up-to-date information on security conditions by calling 1-888-407-4747 toll-free in the United States and Canada or, outside the United States and Canada, on a regular toll line at 1-202-501-4444. These numbers are available from 8:00 a.m. to 8:00 p.m. Eastern Time, Monday through Friday (except U.S. federal holidays).
Posted on June 10, 2009
Filed Under General | Comments Off

Why Rwanda's Mountain Gorillas Should Be At the Top of your Travel List
Words and Photos by Safari Specialist, Ryan Hilton – Admiral Travel Gallery
Twenty anxious minutes later we met the PNV guides who would lead us up the mountain in groups divided according to those who wanted to challenge themselves and those who preferred a more moderate climbing experience. Our guide, Dee, had assured us that those of us in search of a challenge were the fortunate ones.  We would visit the large Sussa group comprising over 40 family members that included twins, very rare in Gorillas, and 4 silverbacks.
We exited the vehicles at around +/- 7200 feet above sea level, and the sun was shining with a slight chance of rain. Setting off from the vehicles on foot, our party of 15 (8 travelers, 1 guide, 2 soldiers, 4 porters) was greeted by an immediate gradient on uneven paths and a 50 minute uphill hike through cultivated lands dotted with small mud-brick houses. We arrived at a wall that separated the gorilla's fragile environment from the productive fields of the local farmers. Everything changed when we scaled the 4 foot volcanic rock wall and dropped down onto the other side.
Within minutes we were swallowed up by the jungle and the now familiar sounds of goats bleating, cows mooing, children laughing and farmers calling across the fields to each other were muffled by the dense vegetation.  My attention was drawn away from the pounding of my heart in my ears to the plants, insects, animal tracks & bird calls. We were in their habitat.
Dee checked-in with the trackers, who by now had located the Sussa family, and confirmed the route up the volcano through crackled transmissions on his hand-held two-way radio. We cleared the bamboo forest within an hour and were now in dense ground cover of leafy plants and shrubs 4 feet – 6 feet high and the occasional tall tree.  Sounds from the villages below trickled in with the absence of a high canopy. We took 3 or 4 more short rests over the next 2 hours to catch our breath and encourage those who were feeling the effects of the altitude and exertion.
Shortly after one of these breaks Dee pointed out an area of trampled vegetation littered with Gorilla feces. "They slept here last night," he said. "And went that way," pointing up. My heart was pounding even louder and I reinforced my strategy to myself, "Little steps! Little steps! Make sure you see where your next footstep will land. Little steps! Little steps!"
Dee's shouting into the hand-held and crackled replies increased in frequency and his attention was sharply focused in one direction – up! He looked as if he was straining to see something or someone in a particular direction and I tried as well, but saw nothing. Dee gave us the "15 minutes" notification and our group of travelers perked up. The end of the climb, and the gorilla sighting we had all traveled so far for, was within reach.
I began to pick up a distinct pungent odor and saw a lot more fresh feces when suddenly a human voice called out from above and Dee replied. We had arrived. Finally!
In conversation with Dee, the tracker pointed to his left, gestured over a small ridge and nodded his head. Dee turned to us and confirmed the direction of the animals and said "Get your cameras ready, all backpacks stay here with the trackers. No water no food!" As tired as we all were, it took us about 90 seconds to be at attention and ready to walk towards the ridge. Dee had to ask the group for permission for us to enter their space through a series of low grunts, which were answered almost right away by the same sounds from one of the silverbacks.
We approached and saw the ground gently slope away from us and up to another ridge about 500 yards away. Among the dense afromontane ground cover I saw one little black speck moving about 100ft away. I turned and found my travelers, pulled them towards me and confirmed that they could see what I was seeing…a gorilla.
As we crested that ridge I was still looking at the individual that was about 100 feet away.  But when I turned my attention a little to the left, I saw over 30 individual gorillas of all sizes, with the closest being no more than 25 feet away. Dee responded to my frozen stance and the look on my face by calling out to me to follow him down off the crest towards the group of animals. I hesitated, and looked for cover to hide behind.  I tried to get a sense of the wind direction as I would with elephant or rhino when on foot, but none of this was necessary as we literally waded into the middle of the family. Every direction I turned, there were gorillas.
TO BE CONTINUED…
The Mountain Gorilla Veterinary Project
Please take some time to learn more about this under-funded operation and the work they do by visiting the website for Mountain Gorilla Veterinary Project at www.mgvp.org.
About The Virunga Lodge
Set high on the top of a hill that overlooks both Lake Bulera and Lake Ruhondo, each of the eight guest rooms and all common areas afford amazing views of the lakes. This property has been identified as one of the most environmentally friendly stays in Africa with its bucket showers and dry human waste management system. Hospitality is warm and friendly and all staff members are very accommodating. The kitchen is able to work with travelers who have special dietary requirements and requests.
Posted on June 8, 2009
Filed Under General | 10 Comments
I admit I'm a bit of a throwback. I still read daily newspapers. I was a journalism major many years ago in college and I'm not ready to give up reading newspapers and magazines. Many of my generation and just about all of the younger ones have pushed the newspaper industry one step shy of payphones.
In fact I read three hard copy newspapers every day and scan eight more online editions every morning, most of the time before 5 am. Throw in three weekly newsmagazines and it gives me a pretty good overview of the things I feel I need to know.~
Every now and then you come across something you have to read at least twice to fully comprehend. It happened to me in the Money section of USA Today on May 18, 2009. The headline said, "Fewer people expected to fly this summer." Nothing really startling about the header until you read the body of the piece. The Air Transport Association (ATA), the airline industry trade group, estimates that air traffic will be down by 150,000 passengers a day in the United States this summer- June 1 through August 31. That's a day. Or if I read the story correctly (the third, fourth and fifth time) an estimated 14 million less people will be in U.S. skies this summer which is down 7% from last summer. And the summer of 2008 was off 3.6% from the record of 2007 when 213.4 million people flew on domestic routes in and out of the USA.
Is it me or does 14 million fewer fliers this summer than last seem like an astonishing number? How about 150,000 fewer a day! As a regular business and leisure traveler and involved in a business that centers around travel, I'm trying to find a silver lining in those statistics somewhere, anywhere.
As far as our business- MedjetAssist- is concerned there is nothing good about those numbers. Our model depends upon people traveling and a reduction in travel is not a good indicator for any part of the travel industry. We know our members value our program and we take much satisfaction in our very high renewal rate but the entire travel industry is dependent long-term on people getting back on airplanes and cruise ships.
Personally as I travel for fun or on business, there is a big part of me that can take this news and relish the related thought to move quicker through security and have more room on airplanes. But, I realize that is not going to happen.
The airlines of course have cut back not only on capacity but counter and ground service as well so despite the decrease in the number of actual fliers not much will change. Airlines have cut routes, flights and moved to smaller economical airplanes to be able to accommodate the 195 million people that will fly. So in this case less isn't more (room), less is the same.
Airport security lines are liable to be just as long as summers past- not necessarily with the number of travelers trying to get through- but with TSA and related personnel cutbacks — our wait may be just as long or maybe just a fraction shorter than days of yore.
Same service issues with airport stores, cafes and restaurants. And of course your pre-flight baggage check and counter help. Less help, same time crunch.
The ATA projects international travel to be down 6% this summer from last. Travel to and from Europe will see 32 fewer flights a day. Don't be too quick to have visions of stretching out over that empty middle seat.
I write this on a Delta 767 to Europe during the last week of May. Schools in most of the country are still in session. This aircraft has 224 seats. Not one seat is empty. Less demand equals less capacity which equals same old, same old.
So as long as we are battling the same issues with fewer players, I'm ready to return to the travel maze full bore. Get me back to those record 2007 levels when as a country and an economy we were fat and happy and spending our money on recreational ventures. When our airports and our skies are full once again and aircraft is taken out of storage and stretched with that combustible combination of business travelers and screaming kids, then I know we have economically recovered.
And when that happens don't listen to my complaining about being on the road. I'm ready for it today!
Safe travels~~
Posted on June 5, 2009
Filed Under General | 4 Comments
By John Gobbels, Medjet VP/COO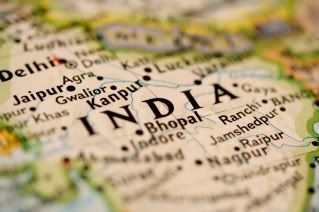 India is the world's largest democracy and the world's second most populous country. Every year thousands of visitors find themselves entranced by the culture and people of this country.
Unfortunately, there is a high threat from terrorism throughout India and terror attacks are a serious and growing threat to U.S. citizens traveling there. U.S. citizens are urged to always practice good security, including maintaining a heightened situational awareness and a low profile.
Coordinated terror attacks in Mumbai in late November 2008 targeting areas frequented by Westerners have raised the risk of Americans becoming intended or unintended victims of terrorism in India.
Because the locations of the attacks have included luxury and other hotels, trains, train stations, markets, cinemas, mosques, and restaurants in large urban areas, it is becoming more difficult to modify one's behavior to lessen the growing risk. The media attention and public reaction to the Mumbai attack could prompt other terrorist incidents. Future attacks may also target public places frequented by Westerners, including in large cities and tourist areas such as Goa.
Terrorist incidents, including those in which American citizens were injured, also occur frequently in more remote parts of India. Generally, the attacks have taken place during the busy evening hours in markets and other crowded places but could occur at any time. Americans in India should be vigilant about security at all times. Americans are advised to monitor local news reports, vary their routes and times in carrying out daily activities, and consider the level of security present when visiting public places, including religious sites, or choosing hotels, restaurants, entertainment and recreation venues.
For the latest security information, Americans traveling abroad should regularly monitor travel information included on the Web sites of the U.S. Embassy in New Delhi as well as the Consulates General in Mumbai (Bombay), Chennai (Madras) and Kolkata (Calcutta) (see contact information below). Americans traveling abroad should regularly monitor the Department of State, Bureau of Consular Affairs' Web site, where the current Travel Warnings and Travel Alerts, as well as the Worldwide Caution, can be found.
Remember that as a Medjet "Plus" member you have access to our "Personal Travel Advisory Service". This benefit provides quick and up to date information on over 260 cities and 18 countries and can be tailored to provide specific information to your travel locations. This information is provided in real time and could potentially alert you to new instability in your specific travel areas.
Travel safe, travel smart and remember to always pack your MedjetAssist Card.
www.state.us.gov – www.usembassy.gov – www.travel.state.gov
Posted on June 4, 2009
Filed Under General | 1 Comment
By: Andrew Harper
Andrew Harper is the pseudonym of a gentleman traveler who, frustrated by commercially driven travel coverage, began writing his own candid reviews of smaller, unique hotels. The Hideaway Report, which began as a small newsletter for friends and family, is now one of the most distinct voices in luxury travel.
Impatient with pretense and skeptical of passing trends, Andrew Harper has an abiding passion for classic hospitality and refined service amid peaceful surroundings. He is on the road for several months each year, and hotels are his second home.
These are his recommendations for the 10 Best U.S. Resorts:
Every year since 1982, I have surveyed my readers to determine their favorite hotels, resorts and hideaways around the world. This is by far the longest-running and most reliable poll of its kind conducted among sophisticated frequent travelers. Nearly 65 percent of this year's respondents typically vacation for at least 30 days annually, and 51 percent say they plan to travel more this year than last.
Unlike the polls of most travel magazines whose results often seem nonsensically erratic from year to year, the Hideaway Report survey serves as a steady and consistent gauge in accurately pinpointing the current hotel and destination preferences of upscale travelers. That's why I make a point of tallying only the votes given to those hotels that have been visited by readers in the last two years.
1. Blackberry Farm, Walland, TN
This sophisticated and stylish country house is nestled amid a picturesque 4,200-acre estate bordering the Great Smoky Mountains National Park, 25 minutes south of Knoxville. The property is well known for its culinary events, which attract superlative chefs from around the world.
2. The Cloister, Sea Island, GA
The Cloister is a renowned family-oriented resort community located on a 10,000-acre island estate connected by a causeway to St. Simons Island, midway between Savannah and Jacksonville. The spectacularly restored Main Building and Mediterranean-style annexes contain 156 rooms fringed by colorful gardens, some set along a superb five-mile beach.
3. Post Ranch Inn, Big Sur, CA
The incomparable Post Ranch Inn sits along a panoramic bluff directly above the Pacific, 45 minutes south of Carmel. The ultra contemporary, environmentally sensitive guest lodgings here include premier "Ocean Houses" recessed into a ridge and "Tree Houses" on stilts surrounded by oaks and redwoods.
4. Four Seasons Hualalai, Hawaii
Our readers' favorite Hawaiian resort by a distance, this sophisticated and graciously staffed luxury resort is set in lush, dramatically night-lit grounds along half-mile rocky shoreline of north Kona Coast. A Jack Nicklaus-designed golf course and full-service spa completes the picture.
5. Twin Farms, Barnard, VT
This luxurious and intimate country retreat is set amid 300 acres of meadows and woodlands in an unspoiled valley, 15 minutes north of Woodstock. Hand-painted murals, rich maple and pine woodwork, American folk art and artifacts and contemporary oils adorn the inn's twenty distinctive lodgings.
6. Auberge du Soleil, Rutherford, CA
A long-time Napa favorite, this cosmopolitan European-style resort is terraced into a hillside overlooking rolling vineyards, 90 minutes north of San Francisco. The recently renovated villa-style lodgings feature terra-cotta floors, fireplaces and picturesque verandahs.
7. The Greenbrier, West Virginia
A venerable, world-class mountain resort, the Greenbrier recently completed a $50 million renovation. The property offers extensive recreational and spa facilities amid a 6,500-acre estate of manicured parklands and formal gardens in an upland Allegheny Mountain valley.
8. San Ysidro Ranch, Montecito, CA
A new owner has recently invested $100 million to restore this historic property, and the results are extraordinary. The sophisticated 500-acre cottage-style resort in the leafy foothills of Montecito has 18 peaked-roof cottages, many with generous sitting areas, working fireplaces, private patios.
9. The Sanctuary Hotel, Kiawah Island, SC
A golfer's paradise. This beautifully appointed luxury resort, set along a 10-mile beach on a private residential island (35 minutes from historic Charleston), has five championship golf courses designed by the likes of Pete Dye, Tom Fazio, Jack Nicklaus and Gary Player.
10. The Inn at Palmetto Bluff, Bluffton, SC
The Inn at Palmetto Bluff is southern hospitality incarnate. The fifty distinctive cottages here, trimmed with wonderful screened porches, overlook a classic Carolina lowcountry lake and river. The enclave is set amid 22,000 scenic acres, 25 minutes from Sava.